Welcome To Venomous Motorsports:

Now On The Internet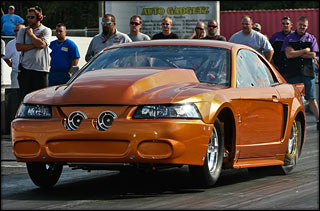 Welcome to the new home of Jerry Morgano and "Venomous Motorsports.com". We'd like to share our drag racing experiences with you now on the web.

After having a domain name for a year or so, we've picked up the pace to go hard into the season of 2009 with up to date inside information on our racing experiences and hopefully use this website as a journal to allow you to follow with us at your leisure.
Make sure you add us to your bookmarks!

VenomousMotorsports.com may be new to the web but not the track, as far back as "Quick 8" racing goes, our peach colored 1979 Camaro ran in all the series against the champs of the sport with small block power as early as 2002. Team Venomous has moved on into the turbo systems over the last four years going from a single unit to twins now but still with a small cubic inch engine we feel that our chassis is enough to make full use of Anthony DiSomma's record breaking power combinations and Don Bailey's proven killer tune ups.

Our team plans to follow the NMRA, 1320X's new series, and all of the homebound tri state area races with a fever like drive to challenge the champions of all the different tracks with less but more in some cases when it comes to our complete race car all ready to go this season.

Enjoy The Internet Ride With Venomous Motorsports Now! View Our Recent News Here:



About Our New Website:

Tips, Tricks, And Thanks !!


It's obvious that we need to thank the many people involved in helping create content for this website, mainly our Sponsors, Anthony DiSomma, M2 Race Systems and more.

Much of this website is built from the hard work of others be it photography, video, or race series information.
We'd like to stop for a moment now and give them our thanks!

Some cool features have been built into this website like our custom "Intro", fun stuff and information. Our "Drop Down Menu's" will make navigation through our website that much easier. We've spared no expense in giving Mustang owners and Venomous Racing fans a place to come to see one of the quickest and fastest small block twin turbo powered Mustang Cobra's on the planet.

Within the website, you'll find almost everything you'll need from the main menu or by simply using our sitemap navigation to go exactly where you want for a breif stay and a quick check up on news and additions.

Our contact information can be found on any page of the website if you would like to become a sponsor or have an interest in the sponsors we have already. These guys and companies have made us fly over the recent years and we intend to make sure they stay impressed.

Play Our Flash Intro



Adobe Powered Galleries:

The Highest Standards Used



Up to now with the season just beginning our galleries will be featured with photography from various sources mainly the goDragRacing photographers and GoneDragRacing's "Seth". Todays "Flash" based galleries have been long used for their easy and fast loading size and brilliant image quality that Adobe is known for. View Our Photo Galleries



Windows Streaming Media:

Microsoft Has It Right



Our video gallery is based on "Windows Streaming Media" codecs, they will play on any computer at a fast rate and it's standard on almost 99% of the computers sold today.

This will make your video experience with us much more exciting and see exactly what the contributors like Arnie Cohen, CLC Video, and "Zlumlords" productions should be and their contributions are much appreciated. View Our Video Theater